Demoness Directory:

Chi-PP
Join the Chi-PP
The Chi-PP Store
---
Pagan Parenting
Field Trips
To School or Not to School?
Paganism and School
Pagan TV?
Learn at Home
Help Your Kids Learn!
Tools of the Trade
What's Expected
Subjects
Teaching Ideas
More Links
Kids and Animals
Scouting
Allowance?
Kids n' Magick
More Info
---
Information
Spellwork
Holidays
Pagan-Style Camping
Psychic Hotlines
Recipies
Add/View Links
Pagan Dollars
---
Fun Stuff
E-Cards
Find Jesus!
Word Search
Crossword Puzzle
---
About Doom Diva
An Open Letter...
Ask Demoness!
Web Rings
Awards
Rants & Raves
All About Me
Contact Me
Disclaimer
---
Book Info
If you are a reputable wholesaler and would like to purchase A Guide to Pagan Camping for your retail shop, kindly contact Rotco Media.

Thank you for supporting this endeavor. Many blessings to you and yours!
And remember, every sale beyond recoupment goes towards the "Send Lori to Camp!" fund!
Well hey howdy and welcome!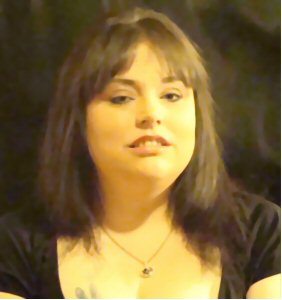 This site has been online, in various guises, since 1996 and has gone through a great many changes over the years. I'm eternally grateful for all the support and friendship in that time, from wonderful people all over the world. To your right are various features I've posted in that time, and I have decided to keep as much "as is" for sake of history. This site is, more than anything, a personal eBoS that I have learned from. Perhaps you can learn something as well.
One section that has been very active over the years is on my Pagan camping stuff, so much so that I have actually have written a book on it. Over the winter holidays of 2010, my Muse jumped on my shoulder and demanded I move it all over - at first to blog form, and then to print. She wouldn't put up with any of my excuses, and She also insisted I do it myself with little help. So much for a restful Winter! After the book went to print, I thought She would be happy with it, but no. She sort of laughed at me and said,
"You do know you still have a great deal of work to do, right?" I knew exactly what She was referring to: My kids' stories. In other words, the camping book was my "breakout book" - the one to get people to know who I am. My stories are the ones that have been sitting online for almost a decade, waiting for me to fully illustrate them and make them ready for little hands to love.
So yes, beyond A Guide to Pagan Camping, I do have other works in the making. This is on top of the record label I run with my husband, having a day job, graduating our son from homeschooling and helping him enter the Army and return home. (Oh and yeah, I do have a day job as well.) So yes, when I say I'm busy, I really do mean it, but that doesn't mean I won't try to make time to invest in the Pagan community!
Thank you again for your support and love. Right back atcha!
-Lori
---
A Guide to Pagan Camping:
Festival Tips, Tricks and Trappings

List Price: $12.95
6" x 9" (15.24 x 22.86 cm)
Black & White on White paper
224 pages

Rotco Media
ISBN-13: 978-0615456270
ISBN-10: 0615456278
BISAC: Body, Mind & Spirit/Witchcraft & Wicca

Composed over nearly a decade, A Guide to Pagan Camping is finally available - just what the Community's been waiting for! This book travels beyond the basics in order to encourage more Magical folk to bid adieu to their mundane lives and dance beneath the stars.

Written by a true camping pro, A Guide to Pagan Camping makes primitive camping and temporary community building appear incredibly easy and intensely fun. This isn't your daddy's boring and nit-picky camping book!

Features in A Guide to Pagan Camping include:

Deciding which festivals best suit your needs and match your budget.
Choosing what gear to bring and why, all while keeping it simple, comfortable and stylish.
Locating the optimal campsite and transforming it into a true Covenstead.
Presenting a Pagan workshop, performing a musical act, which workshifts to choose and how (and what) to vend.
Owning your spirituality and personal ethics while respecting those of others.
Handling complex personalities and egos with grace, tact and professionalism.
Simple, healthy, easy to follow and incredibly delicious outdoor recipes.

Lori Dake is a lifelong camping and music enthusiast who loves to combine the two whenever possible. She has traveled to almost every edge of North America the old-fashioned way, and she is always up for pitching a tent and living simply among like-minded, spiritual individuals.