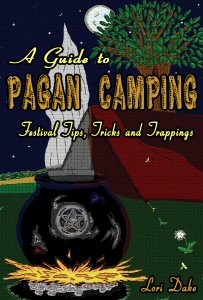 A Guide to Pagan Camping:
Festival Tips, Tricks and Trappings
List Price: $12.95
6" x 9" (15.24 x 22.86 cm)
Black & White on White paper
224 pages
Rotco Media
ISBN-13: 978-0615456270
ISBN-10: 0615456278
BISAC: Body, Mind & Spirit/Witchcraft & Wicca
Composed over nearly a decade, A Guide to Pagan Camping is finally available - just what the Community's been waiting for! This book travels beyond the basics in order to encourage more Magical folk to bid adieu to their mundane lives and dance beneath the stars.

Written by a true camping pro, A Guide to Pagan Camping makes primitive camping and temporary community building appear incredibly easy and intensely fun. This isn't your daddy's boring and nit-picky camping book!

Features in A Guide to Pagan Camping include:

Deciding which festivals best suit your needs and match your budget.
Choosing what gear to bring and why, all while keeping it simple, comfortable and stylish.
Locating the optimal campsite and transforming it into a true Covenstead.
Presenting a Pagan workshop, performing a musical act, which workshifts to choose and how (and what) to vend.
Owning your spirituality and personal ethics while respecting those of others.
Handling complex personalities and egos with grace, tact and professionalism.
Simple, healthy, easy to follow and incredibly delicious outdoor recipes.

Lori Dake is a lifelong camping and music enthusiast who loves to combine the two whenever possible. She has traveled to almost every edge of North America the old-fashioned way, and she is always up for pitching a tent and living simply among like-minded, spiritual individuals.